What's Your Diagnosis?  February – April 2013 Challenge Answer
A special thank you to Dr. Beth Gordon of High Valley Veterinary Hospital for submitting this case.
Congratulations to our three winners who submitted the correct answer:
-Dr. Jennifer Hamlet, The Drake Center
-Dr. Michelle Schexneider, Pacific Pet Hospital
-Dr. Grant Mayne, Arrowhead Animal Hospital
This challenge involves a 12 year-old F/Y Rottweiler. History: polydipsic, sleeping more, occasional tripping, weak at left foreleg. The veterinarian did a geriatric screen prior to the dog's scheduled dental procedure.
Three views are available below for your interpretation: abdomen, left lateral thorax, and right lateral thorax.


In addition, below is the 10 month recheck image.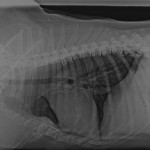 Conclusion:
Unfortunately, the owner did not come back for the three month recheck and instead, waited 10 months — now there is a lump along the chest wall. The bone lesion has progressed.
The findings demonstrate the importance of screening older patients and identifying disease at an early stage.
1. S4 appearance is concerning for an aggressive process. This finding along with the appearance overlying the left 4th rib and left scapula is very concerning.
2. Pulmonary osteomas which are considered benign.
3. T-L and L-S spondylosis. No evidence of discospondylitis. The spinal disease could explain this patients tripping.
4. Ingesta distended stomach. No cause for the PU-PD identified.